Here is an update from our Spring gappers:
Travel. A new place. A different rhythm. Novel colours, sounds and smells assail many a traveler as they set foot on foreign land. With this often comes the unmistakable adventure; something is just different as if the air itself was charged with anticipation. Arrival at CEI was no different (well maybe a little). With warm smiles and enthusiastic introductions, we were welcomed inside the community. The openness of those already here seemed to mitigate the shock of adjustment as we fell into the tight yet comprehensive embrace that defines the community.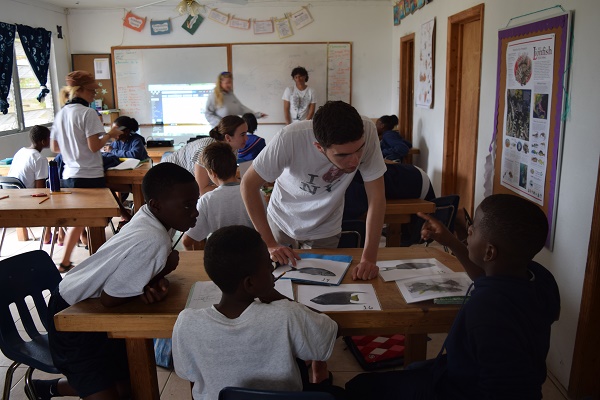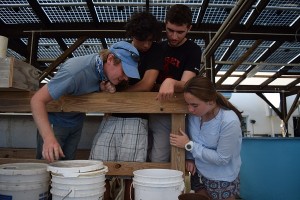 From Aquaponics and permaculture, to ocean research with conservation in mind, we witnessed stimulating, cutting-edge projects that radiated a vibrant atmosphere of purpose and progress to the facility. Being exposed to this environment where sustainability is the main focus in all aspects prompted a plethora of concerns and reflections shared by the Gap students in the Human Ecology and Environmental Issues classes. How we've lived here will undoubtedly influence the way we act in relation to our environment and resources for the better, inspiring those around us, as we were here, to achieve a society where we can live in harmony with nature and its flows. And so on we strive.
Heading back a little in time, early February, we braved the cold and went on a kayak trip down to the settlement Green Castle. We learned how to create and sustain a fire using just one match; all of us achieved this! While out on our kayak adventure, we snorkeled at a blue hole where we were graced with the presence of five spotted eagle rays!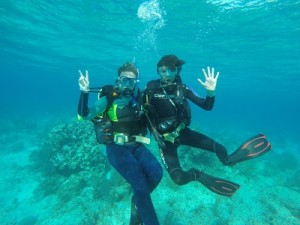 Our time has also been spent diving. The boys started their advanced diver certifications, with one more dive, the night dive, to go! Research was a big theme, getting our hands into each of the different research teams. The adventure continued when we were on the island exploration trip, where our activities were as varied as surfing, heading down into the Hatchet Bay cave system, snorkeling with sea horses, jumping into a pristine blue hole, visiting Harbor Island, and also doing some community service at the Leon Levy Nature Preserve in Governors Harbour. Throughout our trip, we made gourmet camping meals and saw incredible views. We ended our trip with a 44 hour solo experience on Red Bay beach that gave time for reflection, for thinking about what this experience has meant, and the learnings taken from it.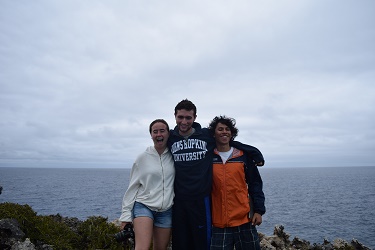 As we finish up the program, the team has been working on an internship with respective teams from both the Cape Eleuthera Institute and the Center for Sustainable Development. Emilio, a sharp young gentleman from Mexico's heartland, is working in the aquaponics department. He has spent the past week digging the foundations of a new aquaponics bed, and he has loved every minute of it. Next, we have Caroline. She is working with the shark team, and although this is her first research experience, she is doing a great job assisting with video analysis of the deep water camera the Medusa, and also getting some field time. Last but not least, we have August. Born and raised in New York City, he wanted a taste of the country life, and has started work at the permaculture farm. While learning many essential farming techniques from a very hands-on perspective, he has started Haitian Creole lessons with some of the full-time farmers.  All gappers will give a presentation on the work they have done in a few weeks time, and although slightly nervous, we are very excited to share what we have learned with the greater community.
by