Here is an excerpt of her Island School experience, by Link School student Medina Purefoy-Craig: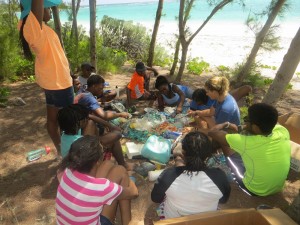 I can now safely say that I can jump into water and actually not drown. Early this morning before the sun itself was up we embarked on a "Run Swim". We did multiple drills that would help us feel more relaxed in the water and know what to do to conserve energy. When I first arrived I had no idea how to swim. I relied heavily on every flotation device around even when I have my PFD (Personal Flotation Device) on. After the drills I was able to swim from one shore to the other by myself, even though I did swallow more salt water than needed and flipped over on my back when I meant to swim forward.
After breakfast, we had a small lesson on plastic and how much ends up in the ocean. We then proceeded to Cotton Bay Beach where we picked up plastic of the beach and did a not-so-competitive competition to find the weirdest things. We found a lot of nets,  refrigerator door, toothpaste tube (made in the US, package designed in the UK) a plate, some clothes, and a lot of unidentified objects as well. Overall it was a great way to give back to the earth and to save the fish even though I never eat any. In the end we had three full boxes and had to leave some there to grab later.
by