Our local Bahamian fishermen recently brought in over 40 lbs. of lionfish to The Island School as part of the "You Slay, We Pay" campaign.  The slayer campaign incentivizes Bahamians to fish for invasive lionfish.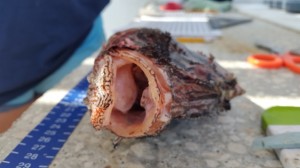 The lionfish are a healthy, locally sourced and sustainable fish choice for The Island School dining hall and also a great source of information. The whole lionfish brought in were dissected by the CEI lionfish research team, who dissected 49 of the fish to collect data on the weight, length, sex, and stomach contents of the fish.
The largest lionfish was 944 grams with a total length of 40 cm, close to the longest recorded lionfish which measured at 47cm.  While the large size of the lionfish were impressive, so were the organisms found during the dissection in their stomachs.
One lionfish which was 22cm long had eaten a redband parrotfish of 10cm in length, thats almost half of its size!  Other interesting finds included two lionfish who had exclusively crabs in their stomachs, and even a stomach containing lionfish spines!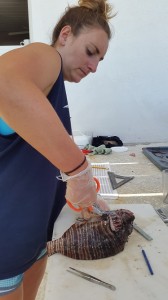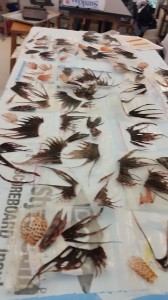 We look forward to the next batch of lionfish from our local fishermen to dissect and fillet for more insight into lionfish biology as well as the opportunity to eat these tasty sustainable invasives. Remember to eat and wear lionfish!
by