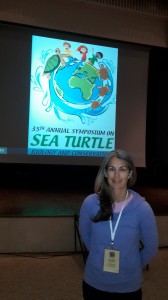 Annabelle Brooks, CEI Research Manager, just attended the 35th annual symposium on sea turtle biology and conservation, hosted by International Sea Turtle Society, in Dalaman, Turkey. The symposium draws participants from around the world, from across disciplines and cultures to a common interest and objective: the conservation of sea turtles and their environment. The Symposium encourages discussion, debate, and the sharing of knowledge, research techniques and lessons in conservation, to address questions on the biology and conservation of sea turtles and their habitats. 
Annabelle gave a presentation on some of her research findings, focusing on morphological variation in juvenile geen sea turtles around Eleuthera, and also attended talks on various topics including nesting, in-water biology, and fisheries bycatch of sea turtles. Next year the symposium will be held in Lima, Peru.
The morphological study is being conducted in collaboration with Dr. Duncan Irschick of UMASS Amherst and the full study will hopefully be published later this year!
by