The month of October has been busy and bustling with visiting educational programs from Palm Beach Florida and Nassau.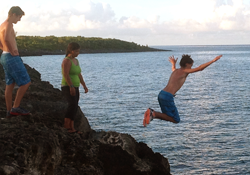 Palm Beach Day Academy, located in South Florida, recently visited for a 5 day program where they focused on research and sustainable systems at the Island School and CEI. After spending a memorable first day tagging juvenile green sea turtles they spent the next morning with the aquaculture team for an entertaining (and delicious) presentation where they were able to eat some of the Cobia grown in the 3000 m3 offshore cage. Throughout the remainder of their trip they enjoyed a presentation and dissection on the invasive lionfish as well as an engaging bonefish dissection from the Flats researchers just to name a few.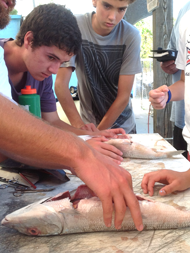 Lyford Cay International School, a K-12th grade International Baccalaureate authorized school in western New Providence, The Bahamas, brought their grade 10 students last week for a 3 day program focusing on sustainable water usage and conservation techniques at CEI/Island School. Each morning the students joined the morning chore of measuring the water in the cisterns around campus.
They learned about the importance of mangroves for natural water filtration as well as water use in agriculture, they compared rain water collection (in cisterns) to reverse osmosis systems (RO), and studied the biodigester, a new addition to campus. In addition, they made a trip over to Deep Creek Middle School to lend a hand with some exotic species removal and the planting of native trees.
This week we have Lyford Cay International School returning with their grade 12 students to study sustainable fisheries. They plan on documenting their stay here at the Island School for a group video project on sustainable fisheries. Looking forward to see what kind of ideas they have for their project!
by