We have tagged many bonefish around South Eleuthera (around 2500 fish) over the last few years, and several more over the last three months off Abaco and Grand Bahama (a little over 1500 fish).  To fill in the gap in effort between those sites, however, we recently took our seines and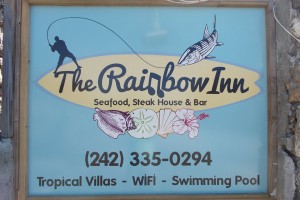 tags up to the north end of Eleuthera.  Working out of the Rainbow Inn, our FAVORITE home base in all of Eleuthera for field work outside of CEI, Dave Philipp and Chris Haak from the Fisheries Conservation Foundation and Mickey Philipp, an IS SP09 alum and current sophomore at University of Vermont, teamed up with Zev Wasserman and Gershom Rolle from the Rainbow Inn to hunt the wily bonefish on the flats around the Current, way up at the northwest tip of Eleuthera.
Because Gershom seemed to know exactly where bonefish were going to be hanging out, we had great luck, tagging over 300 fish in our first net haul (just south of the road) and almost 200 in our second haul (over on Current Island).  On the island, Jonathon Rahming, a local resident that was justifiably concerned over strangers netting fish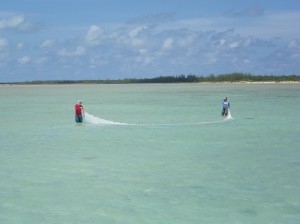 in front of his house, gave us his perspective on fisheries, evolution, and life in general…a fun and enlightening experience.  We then moved to Corrie Sound, where our efforts were not nearly as successful (or physically easy!).  At the end of two days, however, we had tagged over 500 fish in a great location to test bonefish movements — both down island to the Cape and across the deep water of the Bahamas strait to Abaco or Grand Bahama Island. We haven't had any of these fish recaptured yet (only a few days), BUT(!!) an angler fishing near the North Eleuthera airport, across from Harbor Island did indeed catch a bonefish that was tagged by a friend of ours in the Marls off western Abaco over two years ago.  That fish had swam over 100 miles across water 1000s of feet deep to get there, an amazing feat!
A few days after tagging near the Current, we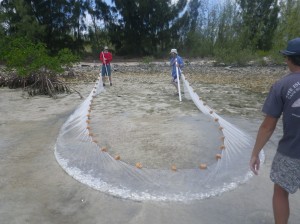 took the visiting students from Monmouth University in NJ to another site in North Eleuthera, Inner Sound, a flooded mangrove forest that at low tide empties right out, a perfect scenario to set nets and wait for fish.  We were a bit surprised when we arrived to a super high tide and had to swim neck up to two creeks to set nets.  After watching the water (and only a few fish; tagged only five) and leaving the mangroves, we hiked the equipment back – through incredibly soft mucky bottoms.  It was very hard work, and we were all covered with mud from head to toe…but all were laughing and smiling!  That day set the record for the most calories spent per bonefish tagged!  Now we just need anglers to catch these tagged fish to let us know where they go.
by