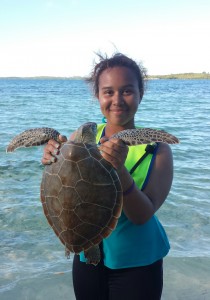 Here is a update from Bahamian intern, Cassidy Edwards, who has been working with the Turtles, Lionfish, Sustainable Fisheries, and Flats teams:
Being here at CEI a few weeks, I got to do some amazing things that I hope will benefit research. On my first day, I went out to sea to retrieve BRUVs (Baited Remote Underwater Videos) with Eddie from the Turtle team. I got my first surprise of the day by pulling up a baby octopus. He wanted to stay stuck to the boat, but we let him free and he thanked us with ink. As the days passed, I began to help with setting BRUVs, and analyzing them, which was interesting. What I saw was spectacular; who'd have thought a crab and remora would be fighting for food!
Most of my days were spent in the field, placing BRUVs and doing turtle abundance surveys, or sometimes both. I even got to tag turtles for a study on juvenile turtle habitat use and body condition. As I continue here, I hope to tag more turtles and actually catch one.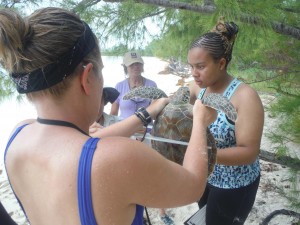 Although the majority of my time spent here was working with Turtle Team, I also got to work with Lionfish, Sustainable Fisheries, Aquaponics, as well as Flats. I collected data on conch middens, cast net for baitfish and watched a swim tunnel as well as entered data. One of my favourite activities was filleting tilapia. It's a lot of blood and dead fish involved, but I don't mind getting my hands dirty. While that may seem like work, it's actually fun. I got to go snorkeling out in the field and at CEI, where I saw a lot of small fish, a stingray, and beautiful reefs. Last week, Earthwatch visited, and I got to work with them for a few days. They were very exciting to be with and through them I learned what Earthwatch is about.
My goals are to gain a greater understanding of marine life and sustainability, to understand how they are affected by humans, to learn what ways we can reduce our negative impact on them and the earth, to become better at snorkeling, and perhaps to try SCUBA diving later on. I met a lot of interesting people, and every day I meet a new face. By the end of my internship, I hope to become familiar with everyone's names. From sitting down analyzing BRUVs to chasing turtles, a day at CEI never fails to amaze me (except for the bad sunburns I occasionally get).
by