Friday, July 24th marked the culmination of the 20th summer of the South Eleuthera Children's Camp at Cape Eleuthera. Fourteen children between the ages of 8 and 14 attended the one-week camp designed to introduce campers to the ocean and teach them about marine issues and conservation. For many young campers, this was their first contact with the ocean and on day one they are taught to face their fears of the sea as they dive in and learn how to swim. One camp counselor describes her first day as "inspiring" and "of real importance to children who live in such close proximity to the ocean". All 14 campers passed their swim test and three days later dove into the deep blue of the Exuma Sound. When asked about their favorite part of camp, many children stated that facing their fears and jumping into the deep blue sea was the highlight of their journey.
Aside from learning to swim, the campers learned about ocean conservation and the marine creatures that inhabit their waters. At the end of the week, each camper gave a presentation of what they had learned to an audience of master student scientists from around the world.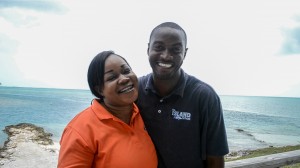 Two current, CapeEleuthera Island School employees were among the first campers in the two-decade-old tradition. Sammy Dorset of Tarpum Bay, attended the camp at age 15 and Shamara Burrows of Waterford, attended at age 9.
For both Sammy and Shamara, this camp was their first encounter with Island School founders, Chris and Pam Maxey and, for Shamara, her first encounter with the ocean and learning to swim.
Both Shamara and Sammy are now key contributors to The Island School community. Sammy is a Biodiesel Technician where he works to convert used cooking oil into usable diesel to supply Island School vehicles with a sustainable, alternative fuel. Shamara is part of the accounts team and works diligently to compensate and maintain good standing with our various vendors and suppliers. They both remember their experience at camp fondly and attribute much of their current success to their first contact with The Island School – at summer camp.
When asked about the origins of the Summer Camp, Chris Maxey said, "Our true roots here for supporting educational opportunities on Eleuthera began back in the summer of 1995 with the start of our South Eleuthera Camp. Long before The Island School or the Deep Creek Middle School we camped along the shore in the Casuarina forest. I am especially proud that two of our pioneer campers who back in the beginning lived in tents by Sunrise Beach are now working with us at Cape Eleuthera Island School. The camp journey is focused on exploring the marine environment and helping instill a conservation ethic in this next generation of South Eleuthera citizens; now this summer in our 20th year of running the camp we have reached well over 250 campers. We give special thanks to the Cotton Bay Foundation for funding this opportunity since it's inception."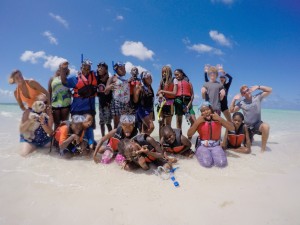 The South Eleuthera Summer Camp is a tradition here to stay and to continue to inspire young people to understand, explore and love their environment.
by