Wading in the middle of the tidal flats of northeast Grand Bahama, the untrained eye wouldn't even begin to recognize the magnitude of life hidden among the cryptic maze of creeks and mangrove cays… but that's not the case for Greg Vincent, Jason Franklin and the rest of the H2O Bonefishing crew who miraculously navigate this mangrove labyrinth and interpret the slight intricacies at the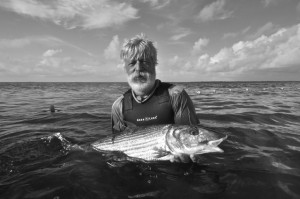 water's surface to point out unseen schools of fish all around. It is this often unrecognized magnitude of life and diversity that the CEI Flats Ecology & Conservation team, guided by the volunteered resources and experience of H2O Bonefishing, seeks to understand and protect.  This past week, Dave Philipp, Aaron Shultz, Brian Shultz, and Ian Rossiter of the CEI Flats team, along with Jeff Koppelman from the Fisheries Conservation Foundation (FCF), Karen Murchie from the College of Bahamas (COB), and others from the Bahamas Initiative [a joint venture between CEI, FCF, and Bonefish & Tarpon Trust (BTT)] have ventured out into the Grand Bahama flats ecosystem with hopes of capturing and tagging 500+ bonefish (Albula vulpes).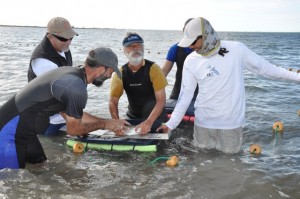 So why are we going to so much effort to tag these bonefish? As any sports angler will tell you, bonefish are the fish to catch in the Bahamas. So much so, that the revenue generated toward the Bahamian GDP by catch-and-release bonefishing has been estimated to be over $140 million (that's a lotta bones… get it). Despite their value, we know very little about the natural history of this species. We don't know its home range, migration patterns, spawning location/timing/behavior, etc… Without this knowledge, any conservation effort toward this valuable species is really just a shot in the dark. That's where the tags come in. Each fish we catch in our seine nets is measured and then given a small streamline "spaghetti" tag that has a unique letter-number ID as well as contact information. With this tagged subset of the bonefish population, we can assess much about the population as a whole. Recapture data can tell us bonefish population size, growth rates, movement behavior, and more.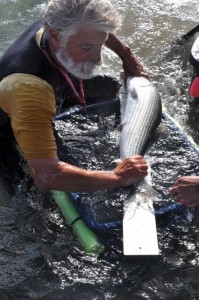 Over 300 were tagged last week in Grand Bahama, and we're still going. In addition, we tagged the largest bonefish to be tagged in the history of the program with a fork length of 27 inches (686 mm)! This is all part of a larger Bahamas-wide bonefish tagging effort by CEI, FCF, and BTT.  We have tagged roughly 5000 bonefish across Eleuthera, Abaco, Grand Bahama, and to some degree, Andros the Exumas and a few other locations and plan to expand to other islands throughout the Bahamian chain soon. This bonefish conservation effort is the first of its kind in the Bahamas and the direct result of numerous people and organizations donating their experience, research, and time. Thanks to all of you that do so much.
by