This eyewitness account was written by a student in the University School-Hathaway Brown Program: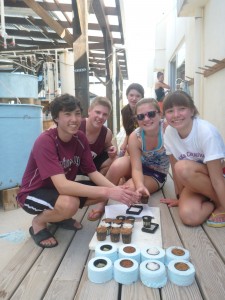 Before getting started, allow me to explain one reason why the Island School was such an eye-opening, incredible experience for my group and me. We are from Cleveland. Between the incessant snow and cloudy days, it seems that conservation is the last thing on our minds. So when our science research-based school club (the Anderson Scholars) of five boys, in addition to five girls (also interested in science research) from our all-girls sister school Hathaway Brown, received the notice that we would be spending a week in the beautiful, sunny Bahamas, we didn't know what to expect.
The Island School is its own microcosm of shape shifting individuals. From the engaging curriculum, an individual becomes a motivated student. From the hands-on outdoor activities, one becomes a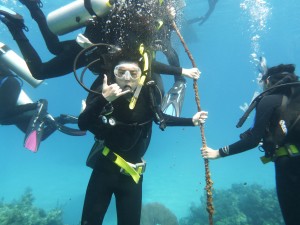 teammate. From the encouragement of others, one transforms into a leader. While most schools are trying to discover a way to make their curriculum applicable to the outside world, the Island School has already developed several tried and true methods to make it a precedent for said schools. The school is a place where the words "when will I ever use this outside of class?" will never be uttered from a student's lips. The students are warm, outgoing, and most importantly, passionate; they are passionate about school, conservation, and lifting each other up. The science researchers are driven, and extremely helpful. One researcher we worked with struck the perfect balance between letting us work in isolation and holding our hand through the process. He was educated, patient, as well as open-minded. Our group couldn't have completed our aquaponics projects without him, mainly because he allowed our own ideas to be displayed, in addition to helping us when we reached a fork in the road.
Outside of doing traditional school-type work, we completed a series of activities that were simple extraordinary. On our six scuba dives, we not only saw several species of beautiful marine life, but also learned about the names and impacts of the organisms on the environment. The group learned about the effects of the invasive lionfish species on the Bahamas, and solutions to the issue. Diving or snorkeling always contained a purpose that educated us even further. Our guide was always sure to enlighten us on our surroundings and their individual histories.
Although this experience was otherworldly, there are definitely connections I can (and will) make with my life back home. First, the conservation issues will be important to me forever, and I know I (as well as my HB and US peers) will make a conscious effort to save water, energy, and resources. Second, I quickly learned how to interact with new people, and am certainly glad I did so, as many friendships and bonds were made during my time here at the Island School. The experiences and people during this time have combined to make a profound impact on my being. So, as I step onto the plane tomorrow en route to Cleveland,  I will miss the experience, but will be thankful for all the pearls of insight I can take home with me.
by