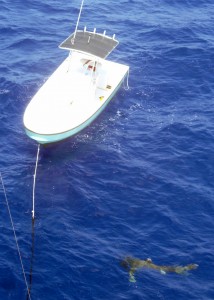 On May 19th we made the crossing home to Eleuthera after a two week journey to Cat Island. We successfully deployed over 20 satellite tags from Microwave Telemetry on oceanic whitetips, with a number of confirmed pregnancies and confirmed non-pregnant females caught and tested with an ultrasound from UNF's Brenda Anderson. Hopefully with this new data we can pinpoint critical habitats for oceanic whitetip reproduction.
With the first leg of the expedition complete, we are all very excited to move on to the next phase of the research cruise. The first stop is Nassau, where an outreach event with our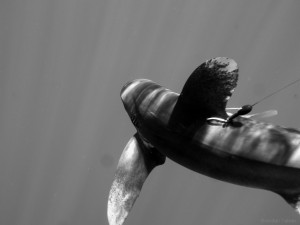 partners at BREEF and Stony Brook University are hosting marine biology students around the city for shark education lectures and even a trip to see Caribbean reef sharks. Hopefully we can generate awareness in the Bahamas and let people know how incredibly valuable the new shark sanctuary can be for the region. We'll continue to update you on our trip as we move towards Andros, the Berry Islands, and Grand Bahama in the coming weeks. So far so good!
by