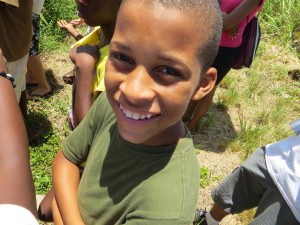 After leading the Deep Creek Natural History Camp, two of our Educational Programs staff helped out with the Bahamas Reef Environment Educational Foundation (BREEF) week-long SeaCamp. They met up with the campers in Governor's Harbour (GH) for a field trip. When they got to the Haynes Library, the BREEF camp leader (and IS/CEI alum) – Allanah – had all the kids excited and ready for their first field trip.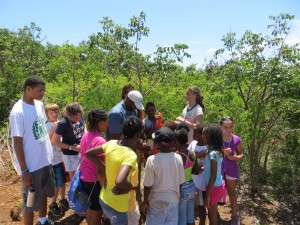 The first stop was the Hatchet Bay Caves and then they toured a brand new, organic farm just across from the caves. The kids learned all about the farm including the mango trees that will fruit twice a year and the miracle fruit that makes anything you eat, after eating this fruit, taste like the sweetest thing. It felt like a field trip to Willy Wonka's chocolate factory! Next they went to Cheetah's pineapple farm and learned about the lost art of farming pineapple in the red soils of Eleuthera. Several kids went home with 'pineapple slips', part of the plant you can pop into some water and 19 months late have a fruit to eat. And that was just the morning!

Then the group traveled to Glass Window Bridge and had a picnic lunch by Golden Cay. The campers went for a snorkel and discovered two lobsters, one that was in berry with eggs! (Lobster closed season lasts until August 1st.)
On Friday the group headed south to tour the Savannah Sound mangrove ecosystem and the Banyan tree in Rock Sound. After lunch at the Ocean Hole Park, they leapt off the edge to cool down and have a swim break. The last stop that day was a scavenger hunt at CEI and the Island School. Many of the campers had been here before, but they discovered new things about the research and aspects of our sustainability efforts (as well as a mangrove dance). After all of this, they headed back to GH for homemade ice cream by Papa Fritz and the kids went home with big smiles (and in some cases, ice cream) on their faces.
by