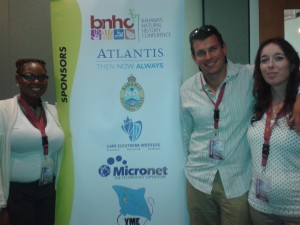 CEI researchers were busy in Nassau over the past week.  On March 4th, Aaron Shultz and Kate Kincaid attended an IUCN Red List Workshop, held at The Bahamas National Trust. The International Union for Conservation of Nature (IUCN) is the world's oldest and largest global environmental organization (www.iucn.org).  As an expert commission member for several IUCN groups, Kate is regularly involved in IUCN work.  This workshop was open to scientists to come together and discuss plans for a National Red List for The Bahamas.  The IUCN Red List of Threatened Species (www.iucnredlist.org) promotes conservation and is an assessment of the conservation status of species to highlight taxa that are threatened with extinction.   Species are evaluated using set criteria; this catalogue of threatened species is an internationally recognized inventory and important for conservation, decision making and highlighting biodiversity loss.
Many species have not yet been assessed and many countries are conducting national Red Lists.  A national Red List for The Bahamas can be used for conservation planning and to assess their progress towards the 2020 Conventional on Biological Diversity Aichi targets.   At this workshop, Kate and Aaron expressed CEI's interest to be involved in the planning process and in species focus groups for sharks, corals and turtles.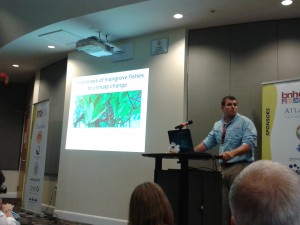 Following this workshop, CEI researchers Aaron Shultz, Kate Kincaid and Kristal Ambrose attended the 2nd Bahamas National Natural History Conference.  This was a 3 day conference from 5th-8th March led by the Bahamas National Trust (www.bnt.bs) that highlighted the importance of research, conservation, and environmental stewardship in The Bahamas.  The conference began with an opening ceremony at Atlantis followed by 3 days of talks. 
This was a well-attended conference held at the College of the Bahamas and was a great chance to catch up with colleagues, make new connections and network with scientists, NGOs and stakeholder partners working throughout The Bahamas.  A highlight of the conference was a chance to listen to Dr Sylvia Earle as a guest speaker.  Dr Earle is a living legend, has logged more than 7000 hours underwater and is a National Geographic Explorer-in-Residence (www.mission-blue.org).  As a TED prize winner, it was a true privilege to hear her speak in person and she highlighted The Bahamas as a global beacon for Marine Conservation.  When Dr Earle spoke, the whole room was captivated by her passion and dedication to ocean conservation and exploration.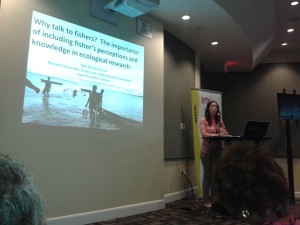 Among the many presenters, CEI joined in to highlight the research being done through CEI in Eleuthera. Kate presented on the first day and talked about her work involving local fishers in ecological research and assessing willingness for marine protected areas.  Aaron presented the following day on his work on the responses of mangrove fish to climate change.  Kristal presented on the final day on her citizen science work with beach plastic. Kristal was also the moderator for the final session and succeeded in keeping everyone focused through to the final talk.  Dr Edd Brooks was due to attend to present his historical research on shark diversity and abundance in the Eastern Exuma Sound comparing his dataset with Stephen Connets work done in the 70's. Edd was unable to attend, but his work was still presented by Stephen Connet of Family Island Research and Education.  Overall, it was a fun and productive week with a chance to share ideas, network and mix with fellow researchers in The Bahamas.
by