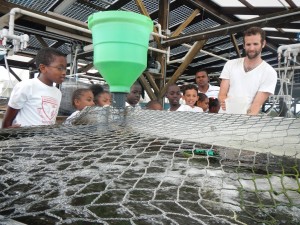 Emma E. Cooper Primary school joined us last week for an afternoon tour. However, this was no typical tour of campus! The entire primary school came with Kindergarten through grade 6, a total of 83 students and 8 teachers; we had quite the group! It was their first visit in 4 years and all were more than excited to be here at Island School.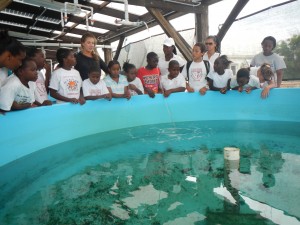 Seven Queens University students, a group of visiting students from Ontario, Canada here fulfilling the field requirement for their teaching degree, came to lend a hand. We split the students into groups where they rotated between three different stations. In the Wet lab, they not only saw all the checkered puffers, bonefish, juvenile lemon sharks, lionfish, yellow stingrays, cobia, tilapia, etc. but they also learned how and why we are studying these marine species. The next station was a virtual tour of a coral reef – a movie by BREEF (Bahamas Reef Environmental Education Foundation) where the students learned what makes a coral reef, its importance in the Bahamas, and how to protect this fragile coastal ecosystem. The third station was split between the farm with pigs, ducks and a permaculture garden, and the sustainable systems of campus. The systems tour exposed students to how we make biodiesel for our school vans, resource/recycle ~90% of what we use, and how we reduce our energy "footprint" by using solar panels and a wind turbine to produce energy. And last but not least, the trip ended with homemade chocolate chip cookie bars as a treat from our kitchen! It was a fun and energetic afternoon that is for sure.
Sharing our unique campus & systems with students who our research directly affects is really something special and more than important for the protection of these ecosystems. I hope to see Cooper Primary as well as other local schools here to visit us in the near future!
Tiffany Gray, Lead Educator
by