Last week, researchers from The Cape Eleuthera Institute traveled to Abaco for the 7th Biennial Abaco Science Alliance Conference (ASAC) hosted by Friends of the Environment. Over the course of two days, posters and presentations alike highlighted research findings in natural history and environmental science in The Bahamas. Drawing a diverse audience with scientists from The Bahamas to as far as Canada, local community members and high school students from Abaco, the conference provided a forum for sharing scientific knowledge on the diverse ecosystems of The Bahamas.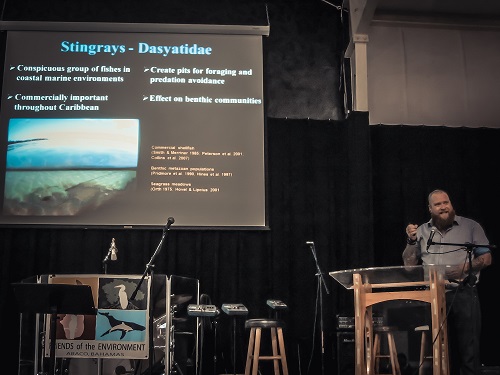 Dr. Owen O'Shea, Research Associate for the Shark Research and Conservation Program, gave an engaging presentation on the ongoing stingray research project at CEI and ecosystem-driven approaches to conservation. Candice Brittain, Applied Scientific Research Department Head, spoke about the recent assessment of the queen conch nursery ground in South Eleuthera. Her presentation was followed by a workshop on conservation of queen conch in The Bahamas, led by the Bahamas National Trust. Georgie Burruss, Research Assistant for the Flats Ecology and Conservation Program, presented new findings on marine debris in the Exuma Sound and plastic ingestion by pelagic sportfish. She also gave a talk on studies conducted by the Flats Program that have aided in developing the Best Handling Practices for bonefish and protection of critical bonefish habitat. Finally, Eric Schneider, graduate student at University of Illinois Urbana-Champaign, presented research he conducted at CEI on temperature change effects on juvenile and adult schoolmaster snapper.
ASAC provided a unique opportunity for networking between the local community, students, and researchers for sharing knowledge on ecosystems across The Bahamas. Researchers from CEI look forward to attending ASAC in 2018!
by